Fleet Service & Repair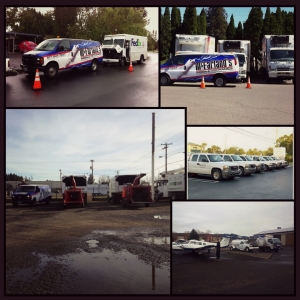 McFarland's Mobile Mechanics offers fleet services to all companies from Vancouver, Portland, Salem, Eugene and everywhere in-between. So let's say your company is a bread delivery company based in Beaverton and does deliveries all over NW Oregon, we would be you're perfect fit. We can perform services such as basic maintenance like oil changes and tune ups, also scheduled maintenance to try and avoid the major repairs. McFarland's can come to your business or location of the vehicle and also do major repairs, such as, engines, transmissions, head gaskets and so much more.
We are also able to perform repairs while your company is closed if that is more convenient and at no extra charge.
We know running a business is enough stress and we are working to relieve the stress of having a fleet of cars, trucks, or medium duty trucks on the road. If your business has one car or hundreds of cars, McFarland's Mobile Mechanics is equipped with all the right tools and ASE Certified Technicians to keep your fleet in working order.
Why McFarland's Mobile Mechanics is the right choice to relive stress and costs with your fleet.
Around the clock 24hr emergency repair at no extra charge. (Just call during business hours to seclude)
Exclusive 24 hour access to a major parts store assuring those late night repairs can be completed.
Onsite repair and maintenance at no extra charge
Extensive coverage of the pacific northwest. We will come to your company or the side of the road where your vehicle is broke down.
No contracts! We want to earn your business and believe you will be satisfied, whether it is our first time out to you or we have been out to help countless times, you can be assured we are doing everything we can to continue to exceed your expectations.
Industry leading information systems and diagnostic tooling.
We look forward to hearing from you and servicing you're business. McFarland's Mobile Mechanics have been servicing fleets for seven successful years in the Pacific Northwest and we are here to help you and your company!
Call Beau or Jimmy today at 971.241.7057 or 541.324.0434