We want to be your
Eugene Mobile Mechanic!
Serving Eugene, Springfield and the surrounding areas.

McFarlands Mobile is only a phone call away! 541-324-0434
Since 2009 we have been coming to you. Our certified technician's goal is to make sure you have a safe reliable car to drive home. McFarland's comes to you (road side, your work, your home, etc.), with NO mileage charge or trip charge for Eugene, Oregon
Meet Adam Hoffman, Our Eugene Service Tech
          Adam is our Eugene area tech!
He has been working in this industry about 20 years.  Adam enjoys drawing, motorcycles, and off-road riding.  He prefers ANYTHING OUTDOORS to EVERYTHING INDOORS!  Football is his favorite sport.  McFarland's Mobile Mechanics is proud to have Adam represent the Eugene, Springfield and surrounding areas in beautiful Oregon!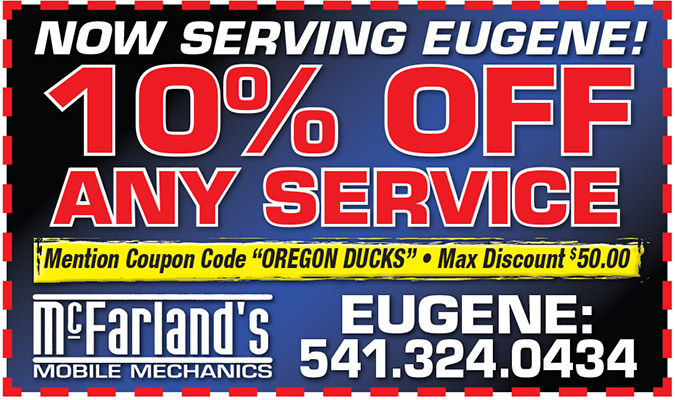 Why run all over town looking for a good mechanic?
McFarland's Mobile Mechanics is your one stop for all your auto service needs. With friendly, ASE Certified Technicians you can trust, we service all makes and models, cars, SUV's, vans, minivans, and pickup trucks. McFarland's Mobile Mechanics is designed for your convenience and complete satisfaction.
Eugene, Oregon • 541-324-0434
Hours: 7:30am – 6:00pm 7 Days a Week • 24 Hour Emergency Service by Appointment