About McFarland's Mobile Mechanics
---
Kevin McFarland (Owner/Operator)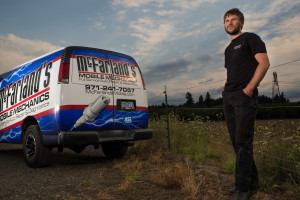 My biggest goal with McFarland's Mobile Mechanics is to create a company that draws the very best automotive and truck mechanics. I believe that by taking care of my team first they will take care of our customers. I want to have a atmosphere that inspires and makes it easy to give 100%  I think that most company's in my industry have this backwards. I am excited to help create  a company that is constantly pushing and changing the industry standard. We are working hard to provide superior customer service, convenience, and repairs.

---
Beau (Service Manager)
Beau has been in the automotive industry for 9 years and counting and he takes great pride in his ability to give excellent customer service and knowledge of the automotive industry.
He is a vital part of the operations team at McFarland's Mobile Mechanics.
Beau loves to cook and BBQ.  He is a basketball and football fan and enjoys watching a good game when he gets the opportunity. He loves to be outdoors playing a good game of basketball and BBQ with friends.
Beau's passion to work the way he does is his family and the company that he works for. His leisure time might find him playing basketball or bowling.
An interesting thing about Beau is he has a love of music, but he is also a BIG UFC fan!
Amanda (Office Manager)
Amanda works in our back office and handles the financial side of McFarland's.
She loves to spend time with her family and friends and recently rescued two young cats. When not working, she loves to read non-fiction, watch movies, go to concerts, and golf!  She still loves 80's music and might impress you with her knowledge of music trivia.
She has two nephews whom she enjoys spending time with.  She also visits her mother down in Eugene as often as possible.  She played competitive fast-pitch softball through her college years, but these days enjoys sports more as a spectator.  College football season can be pretty intense around her household – GO DUCKS!
Her current goals managing the office include being able to assist Kevin and the technicians with all things paperwork, so they can get back out on the road and assist our clients!
Amanda takes a lot of pride in her work and has high expectations for McFarland's office to keep up with how fast we are growing.
She is available to assist you with any questions or concerns regarding your experience with McFarland's.
Jimmy (Service Writer)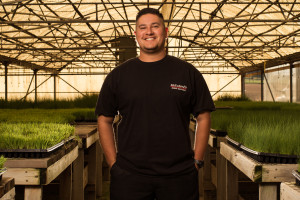 Jimmy Bio –
I have 15 years experience in the automotive field. I specialize in Customer Relations and helping our techs in any way possible. I've been in every field of the automotive industry, from Lot Attendant to Technician to Service Advisor and genuinely love my profession.
On my free time, I love hanging out with my family (Wife and 3 boys), I play traveling softball and watch sports avidly! My favorite teams are SF Giants, SF 49ers and Golden State Warriors =)
I'll be here for any and all your vehicle needs, call me or come visit in the shop =)
 Sam (Field Service Technician)
Sam is our southern Oregon area tech!
He has been working in this industry about 20 years.
Sam enjoys drawing, motorcycles, and off-road riding. He prefers ANYTHING OUTDOORS to EVERYTHING INDOORS!  Football is his favorite sport.
Sam is well on his way to having a well-established career with McFarland's.
---
Brett (Field Service Technician)
Brett has been with McFarland's over a year and is a valued part of the McFarland team!  He has a vast knowledge of all things mechanical. As I write this he is working on a Ferrari in our shop. There really is not much that he cannot handle.
He spends his spare time with his family and friends.
Brian (Field Service Technician)
Brian has been working on cars since he was sixteen years old.  He has extensive diesel and fleet experience.  
He enjoys riding motorcycles, choppers, and building hot rods.
He is motivated by challenges, and continues to improve his mechanical knowledge.
Brian is not a big sports fan and prefers to spend his time on hobbies and with friends.
---
Mark (Field Service Technician)
Mark has been with us for quite a while now, and continues to improve.  
He brings extensive experience in battery, alternator, starter issues.
When not working, Mark enjoys spending time with his girlfriend.
Gerron
UNDER Construction
Mark
Under Construction
Gordy
Under construction
---
Fred (Shop Attendant/Parts Runner)
Fred has been part of the automotive industry since 1986, so he has over 30 years experience.  His father taught him and his siblings about the automotive industry. Fred enjoys disc golf, camping and dirt bike riding. He also enjoys a good game of pool. The thing that keeps Fred pushing is his family and his desire to support them. His favorite sport is disc golf and he love to watch the Blazers play.
While our techs are mostly mobile, we do have a bays at our headquarters in Tualatin.  If your car needs towed in, Fred or Mark will be the tow truck driver to your rescue!
Fred's goal working here at McFarland's is to the best he possibly can and to be good at it!
---
Justin (Field Service Technician)
Justin is a recent hire to McFarland's Mobile Mechanics.  He brings with him several years experience in auto mechanics.
When not working, he enjoys spending time with his wife.
---
The Secret Sauce!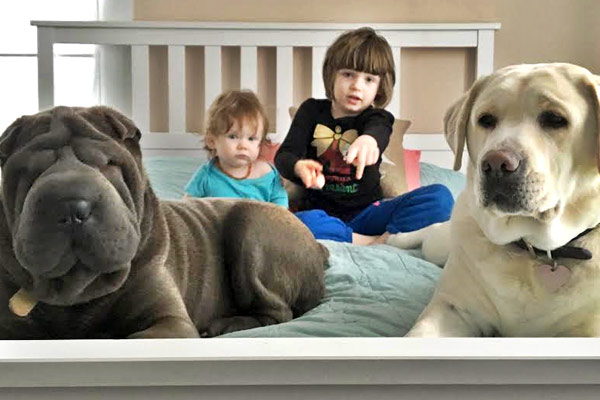 My daughters are my biggest inspiration and what makes it easy to get up on Monday mornings!
We all appreciate your business and we are striving daily to earn your confidence, trust, and respect.
From our team and families, to yours, Thank YOU!